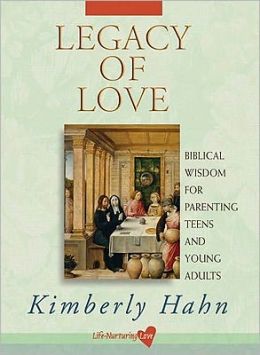 Legacy of Love
is the fourth book in Kimberly Hahn's Life-Nurturing Love series based on Proverbs 31. In this title, Hahn focuses on parenting teens and young adult children as well as reaching out beyond our family. Like the third in the series,
Legacy of Love
is divided into six parts focusing on various verses from Proverbs 31 starting with verse 20 and ending with verse 30.
The book starts out with "she opens her hands to the poor". Hahn shows readers a multitude of ways to reach out to the poor even if you are not wealthy, Then 'she looks well to the ways of her household" and "does not eat the bread of idleness" while teaching us how to better parent our teens. Part four provides us with guidance for dealing with adult children in the home and transitioning them to marriage which then leads into the fifth part about being an in-law. She wraps up the study with instruction pertaining to being a witness to the world while still balancing our priorities.
This is not a typical Bible study as there are not extensive readings from Scripture. There are questions for each book part but they are tucked away in Appendix B. They are divided into two sections: questions for group study and questions for personal reflection. As a personal preference, I wish the questions were placed immediately after each chapter.
Kimberly Hahn is a very accessible writer that teaches Catholic truths in a non-threatening manner; her writing style will appeal to the ordinary mom in the church pew. This book will be of great value to the individual reader, but I think even more could be gleaned if used in a small group setting. An ideal group would be a mix of moms of young teens through those with adult children so that younger moms could be mentored.
I wrote this review of
Legacy of Love: Biblical Wisdom for Parenting Teens and Young Adults
for the
free Catholic Book review program
, created by Aquinas and More Catholic Goods. Aquinas and More is the largest on-line
Catholic bookstore
. I receive free product samples as compensation for writing reviews for Tiber River.