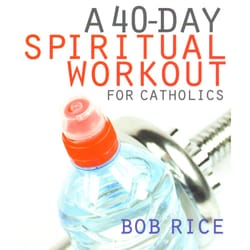 A 40-Day Spiritual Workout for Catholics begins with an introduction by the author. Bob Rice is now your personal trainer for a spiritual workout that will last forty days. He talks about the who, the what, the why, the where, and the when of this workout. He even provides you with a short "how to" on reading the Bible; who doesn't need a refresher?

When the workout begins, you are provided with Hydration (drinking the living water; aka reading Scripture) and Reflection (quotes from the Saints) - need to start out easy. On Day 6, a Cool Down (simple prayers) is added and on Day 8, Rice adds in a Stretch (spontaneous prayers of blessing and adoration). The bar is raised on Day 16 with the addition of Fat-Burning (examining one's conscience). Day 22 brings on Muscle-Building (prayers for not only your needs but those of others in accordance with God's will); we all want to grow stronger in our faith while Day 28 the final addition to our workout - Cardiovascular (prayers of thanksgiving and praise).

This book is a small size making it easy to throw in a purse, backpack or briefcase so one can exercise at any time of day and in any location. I plan to keep
A 40-Day Spiritual Workout for Catholics
by my bedside for my Lenten reading or near my recumbent bike for a full workout of body and spirit.
This review was written as part of the Catholic book reviewer program from The Catholic Company. Visit The Catholic Company to find more information on
A 40-Day Spiritual Workout For Catholics
. The Catholic Company is the best resource for all your seasonal needs such as
First Communion gifts
as well as ideas and gifts for the special papal
Year of Faith
.