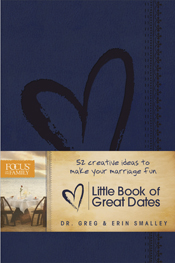 My Thoughts:
Have you made a new year's resolution to spend more time with your spouse? This book will provide with you with 52 weeks of ideas for dates. No need to go in order, just read until you find the date that is right for you as a couple in the upcoming week or so. There are a mix of dates from free to those that cost money, from volunteering to recreating a date from your past and even a special date for your anniversary.
The important part is to reclaim couple time especially if you have children. I see too many couples spend all their free time with their children and rarely with just each other. Children need to see that their parents are invested in one another. When our kids were young, 8pm was a strict bedtime for our kids. Why? Because that way we had time alone that didn't require a babysitter or spending money. I guess it's paid off since we celebrated our 25th anniversary this past July.
Little Book of Great Dates is a beautiful blue leatherlike-bound edition that would make a great gift for Valentine's Day or for a wedding gift.
About the Book:
The Little Book of Great Dates
will help build romance and fun into any marriage with its creative ideas for a year's worth of weekly affordable dates. This book—a simpler, gift version of Focus on the Family's The Date Night Challenge campaign—will help couples to proactively and intentionally build their relationship, showing how everyday activities can become "dates" that strengthen the marriage relationship. It includes plans for special-occasion dates, such as the couple's anniversaries (first date, engagement, wedding), birthdays, etc. Couples can get to know each other better by sharing fun times and discover dating again in their marriage with this great little book of ideas!
Thank you to Tyndale House Publishers for providing me with a complimentary copy of Little Book of Great Dates
for my reading and review.